Based out of Toronto, Noora Sharrab  coordinates and manages projects to support Palestinian refugees in Jordan
A multilayered activist, entrepreneur and mother of two, her love for her estranged Palestinian brothers and sisters, and passion to empower them, has had a profound impact, bringing them economic independence.
She is the co-founder of Sitti Soap, a social enterprise, ensuring fair wage employment to refugees through handmade natural olive oil soap produced in the cold-pressed method.
Inspired by the tradition of soap making, Sitti restores hope and dignity to refugee women through this timeless craft. Using the profits from the soap bars, Sitti funds hard skills development and educational programs for refugee women and girls.
Noora on her evolution and her flourishing non-profit grassroots enterprise
Raised in Toronto as a second generation Palestinian, her parents, both born in Gaza, were fearful that she might experience inequality and discrimination.
My parents had the perception that if we came out as proud Palestinians it would affect our future. I struggled with my identity and as I grew older I became fascinated to explore it more. It took a lot of work to re-educate myself about these notions. I knew where I was from but didn't understand the history.
Sharrab achieved her master's degree in Political Science with a specialization in Refugee and Forced Migration Studies at Toronto's York University. As part of her research, she left her comfort zone to live amongst Palestinian refugees in Jordan. While there Noora realized the vulnerability of women who were unable to continue their higher education due to socio-economic challenges and cultural restrictions in the community.
I saw that education was vital so they could have jobs, be self-sustainable and make smarter choices in terms of marriage and lifestyle. This would enable them to raise families with awareness; thereby making an impact on their society overall.
Education is a better safeguard of liberty than a standing army…
After finishing her M.A, Noora relocated to Amman where she worked in humanitarian development with the  United Nations Relief and Works Agency (UNRWA) office in Jordan. Looking at the fundamental rights of continuing a higher-education, Noora Sharrab, founded a not-for-profit organization in Jordan, Hopes for Women in Education, that worked closely with the refugee communities to provide refugee women with higher-educational scholarships.
She managed and directed dozens of volunteers through the efforts of the organization to serve the refugee community towards higher-educational goals. They raised funds to alleviate the obstacles facing these young women; providing them scholarships and facilitating them to transform their destinies.
During her time in Amman she also met Jacqueline Sofia, a dynamic American photographer and audio storyteller, who was collaborating with the women of Jerash 'Gaza' Refugee Camp, UNRWA and other groups in Jordan, to provide health education and skill-development to women and families in the camp community.

We were introduced to women in Jerash camp who were trained in the art of olive oil soap making. Many of these women had tried in the past to create their own business without success. Both Jackie and I saw the beautiful story and potential of the soap and, we teamed up and founded Sitti Soap.
Do. Or do not. There is no try.
Through the generosity of the community and companies that supported them, they were able to renovate an old house in the camp making it their headquarters 'Hope-Sitti Women's Centre', located in Gaza Refugee Camp, in Jerash, Jordan.
The center acts as a social hub for women, offering numerous social programs and workshops. It hosts a computer lab which is also home to the 'Banaat Connect' program, a virtual language exchange which connects students of Arabic to local women in Jordan through Skype to learn each other's languages.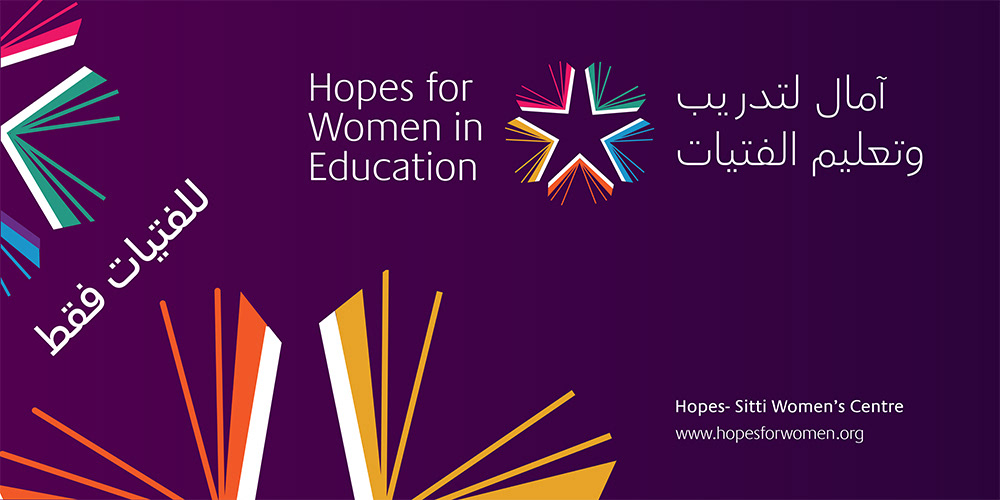 Our long term goal is for the refugees to become independent by handing over authority to them and giving them their own entrepreneurial power. The revenues made to date are re-directed to support the community and fund additional projects on the ground level.
Never give in
Sharrab continues to find creative ways to inspire refugees. For instance, after having her first baby, she teamed up with Rania Turk and created Bubu & Lulu Toys, another Social Enterprise that works with the UNRWA Rehabilitation Centre in Jerash (Gaza) Refugee Camp.
The goal was to help generate a stable income for a disabled deaf carpenter, Hassan, at the Rehabilitation Centre in Jerash Refugee Camp. Naturally talented, Hassan also makes our soap dishes for Sitti and creates handcrafted wooden toy for children. We wanted to use their skills as a way to redirect it towards producing beautiful timeless products that truly gave back.
Soap is to the body what laughter is to the soul
The Sitti product line, which began with a signature square bar of handmade, cold-pressed olive oil soap, has since expanded to a line of 10+ popular skincare and home items; including curated products through partnerships with ethical brands worldwide. Sitti has evolved into a niche, yet globalized brand that is retailed and distributed across the Middle East and North America. They sell worldwide, and offer exclusive bespoke customizations for corporations for their giveaways (often as part of their CSR) and also expanded into the wedding industry, offering personalized beautiful wedding favors globally. 
Today, Sitti maintains its commitment to providing fair wage employment to its all-female staff, as well as offering financial and in-kind support to several beneficiary programs that contribute towards the enterprise's social mission.
With a devotion to serve my community, both locally and globally, I have a passion that drives my mission for making an impact wherever I am. Our hope is that we're able to grow our centre, by moving into a bigger space, scaling our efforts and hiring more women. There's so much potential and such a need in these communities to serve and truly create and produce such meaningful products. Best of all you know that every piece is handmade with such care and love, while helping empower women and lifting them from poverty. We wouldn't be able to do this without the support of so many retailers, donors and stakeholders that helped us get to where we are today.
Tanya
Born and raised in Toronto, Canada, Tanya knew that Palestine was her symbolic homeland. Always curious about her identity and connecting with her roots, she was eager to strengthen her ties to the Levant and traveled the region, desperate to learn more. It wasn't until her first trip to Palestine that she became spiritually and emotionally connected.
She studied Political Science and Sociology at the University of Toronto. She then moved to the UAE, supporting numerous NGOs related to children's welfare in the region. When she had her own family, she created the My Olive Roots platform in the hopes that her children and the Arabs diaspora would have a place to connect, learn and preserve their roots. Tanya enjoys discovering humanist stories and exploring the connection of food and art with culture.